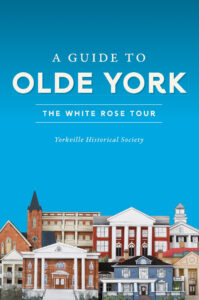 Welcome to York, a city that can trace its beginnings to the origins of York County, South Carolina. Explore the thirty different styles of architecture in a compact historic district that is listed in the National Register of Historic Places. Within three blocks, discover how an elephant brought Santa Claus into town. Walk the paths of Catawba and Cherokee warriors and chiefs, as well as where leaders and militia rode during the Revolutionary War. And imagine the sights and sounds as Jefferson Davis gave his last public address before the cabinet of the Confederacy dissolved. The Yorkville Historical Society offers this fascinating history and more in a guided tour through the White Rose City.
To purchase our book locally:
The Yorkville Marketplace
Rustic Pony booth
108 North Congress Street
York, SC 29745
(803) 620-6299
Thursday, Friday, and Saturday 10:00 a.m. to 8:00 p.m.
Sunday 12:00 to 5:00 p.m.
Closed Monday, Tuesday, and Wednesday
_____
To get this book from the Yorkville Historical Society:  The cost is $25 (includes tax). Email us at [email protected]. Include your name, address, phone number and number of books you would like to purchase. We will contact you to make arrangements for payment and local delivery.
_____
To get this book from an online retailer:  If you would like to have a copy delivered to you or to someone else as a gift, please visit one of the web sites below.