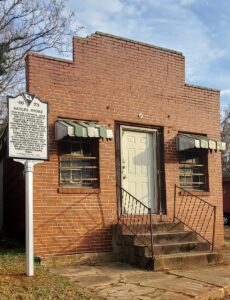 The Sadler Store Historical Marker was dedicated on December 9, 2021, at the Sadler Store, 405 South Congress Street, York, SC 29745.
Sadler Store Historical Marker Front Side: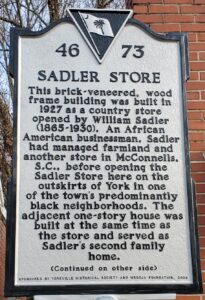 46 73
SADLER STORE
This brick-veneered, wood frame building was built in 1927 as a country store opened by William Sadler (1865-1930). An African American businessman, Sadler had managed farmland and another store in McConnells, S.C., before opening the Sadler Store here on the outskirts of York in one of the town's predominantly black neighborhoods. The adjacent one-story house was built at the same time as the store and served as Sadler's second family home.
Sadler Store Historical Marker Other Side: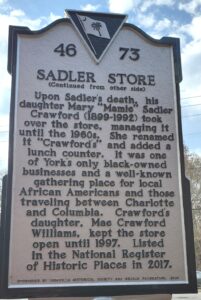 46 73
SADLER STORE
Upon Sadler's death, his daughter Mary "Mamie" Sadler Crawford (1899-1992) took over the store, managing it until the 1960s. She renamed it "Crawford's" and added a lunch counter. It was one of York's only black-owned businesses and a well-known gathering place for local African Americans and those traveling between Charlotte and Columbia. Crawford's daughter, Mae Crawford Williams, kept the store open until 1997. Listed in the National Register of Historic Places in 2017.
SPONSORED BY YORKVILLE HISTORICAL SOCIETY AND WeGOJA FOUNDATION, 2020
Marker Location: 405 S. Congress St., York (34° 59.245′ N 81° 14.779′ W)