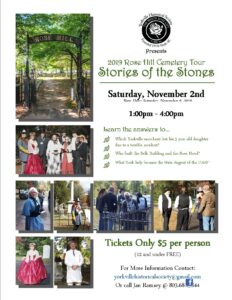 When: Saturday, November 2nd from 1 p.m. to 4 p.m.
Location:  Historic Rose Hill Cemetery at the corner of East Liberty Street and Cemetery Street in York, SC.
Tickets: Tickets will be available during the tour and are only $5 per person, with children 12 and under Free.
Rain/Weather:  The rain/weather date will be the next Saturday, November 9th from 1 p.m. to 4 p.m.  Check this website if the weather is questionable.
During the tour, find out the answers to:
Which Yorkville merchant lost his 5 year old daughter to a terrible accident?
Who built the York Building and the Rose Hotel?
What York lady became the State Regent of the DAR?
Questions: email to [email protected]
This should be another fabulous tour!